BURNDY® PATRIOT® T3 Tool Series
Record when and where crimps occur, with onboard GPS.
Say hello to the 2021 Power Tools Category Product of the year - BURNDY® PATRIOT® T3 Series: 11, 12, & 15 Ton - redesigned with state of the art technology for you. 
Data collected by the PATRIOT provides users a new level of confidence, ensuring their crimper is performing to specification. This redesign enhances the application of the BURNDY® Engineered System; providing an undeniable advantage. 
TRACK crimp locations with onboard GPS
TRACE individual crimps with comments, photos, and output force validation
TRANSMIT via Bluetooth and sync to the cloud
Features & Benefits:
Onboard GPS maps crimp locations
Bluetooth® enabled for instant crimp data
Remotely observe project status
Output force validation, green/red LED
Flag & enter comments/photos for individual crimps
Manage BURNDY® T3 tool inventory
Link accounts and securely share tools
Sync and upload data to the cloud
Create custom reports for projects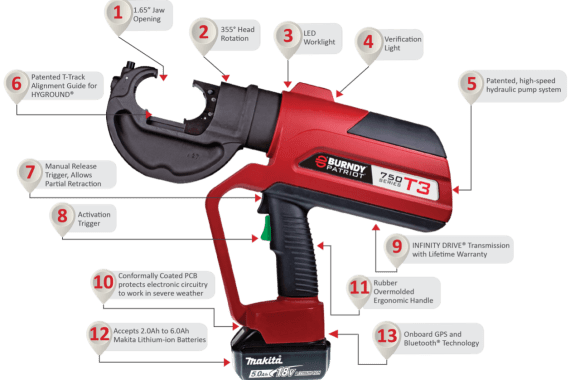 Would you like to learn more about how the Patriot crimper can make your job easier? Contact us to get connected with an account manager. 
BURNDY PATRIOT T3 Series Crimper
See the Patriot in action!